3DP Workbench
From __space Wiki
The 3D Platform Workbench is a large format 3D printer, that uses FFF (Fused Filament Fabrication) additive manufacturing
Jobs run on the Workbench must be reviewed by __space staff prior to printing.
Capabilities
Build Area: 1 meter x 1 meter
Filament: 1.75 mm or 3 mm (3mm recommended)
Nozzle Diameter: 0.6 mm
Max. Nozzle Temp: 295 °C
Max. Print Bed Temp: 145 °C
Materials: PLA, PETG, ABS, NinjaFlex, nylon, T-Glase, HIPS, PVA, etc.
Down to a 70 micron (0.0027") resolution
How to use
Prepare your 3D Image file (.stl, .obj., etc.) by using a Slicer program like Simplify3D to output the proper .gcode file
Use settings for the 3DP Workbench. Simplify3D has a profile prepared that may be applied to most 3D file types.
Save .gcode file to an SD card and then insert SD card into slot on printer
Confirm the correct filament is inserted into the correct sized nozzle
Power on printer by setting the power switch on the back right side to "I", then pressing the "I" button on the front panel of the Workbench.
Once the display has powered on, click the dial to enter the menu
Scroll down using the dial, and click to select "Print from SD"
Scroll down to your print file, and click to select the file
Once the bed and nozzle reach the desired temperatures, your print will start automatically
Monitor the first few layers of your print to ensure it sticks to the bed, this is where most errors occur during the print.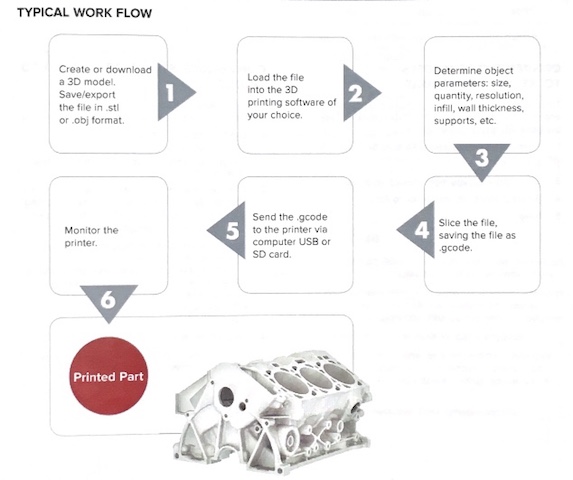 Here is the FFF file for our 1.2 nozzel
Troubleshooting/Common Problems
Filament not sticking to bed
Holes or uneven layers
This printer is best utilized for less detailed, large prints (compared to smaller desktop printers)
Tips & Tricks
Apply a quick spray of Hair Spray onto the section of the build plate you will be printing on to assist with the filament adhering to it.
Increase Infill or Decrease speed for more accurate prints
If your print is too detailed for this printer, but too large for the desktop printers, split up your 3D Image into several pieces (ask for help)
3D Print Statistics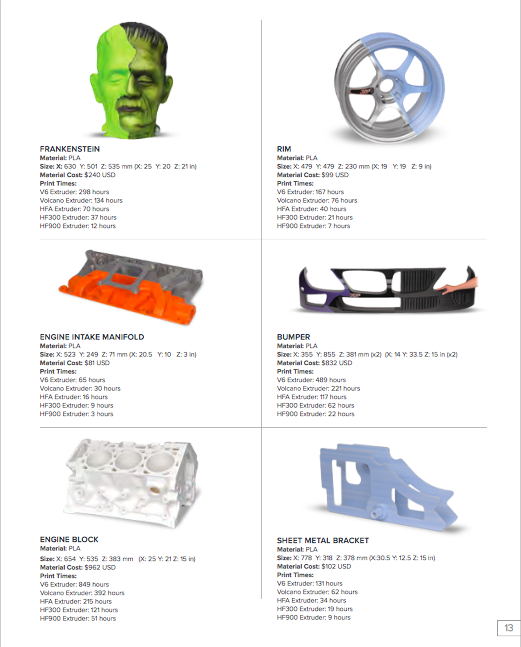 [1]
Links
3D Platform Official Website [2]
Electrical
Standard AC Input:
220-250V Print Bed & Printer Control
15A
60 Hz or 50 Hz